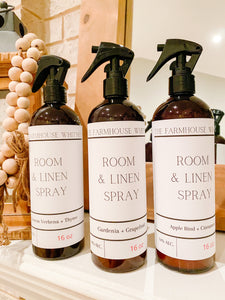 Our linen and room spray comes in a 16 Ounce plastic amber bottle. Use as: room spray or linen spray.
Shake before spray.
Lemon Verbena + Thyme: Sweet citrus and fresh herbal notes combine for a subtly clean and complex finish.
Gardenia + Grapefruit: Fresh juicy grapefruit and heady gardenia blend harmoniously and settle into soft wood with a trace of sweet vanilla.
Egyptian Linen + Lavender Buds: A sophisticated take on clean linen. Florals, musk, + white woods balance out fresh clean cotton.
Laundry Day
Crisp linen accord, white orchid and apple blossom combine to evoke the nostalgic memory of linen sheets dried by sunshine and fresh air. 
Lava
A fresh citrus and sweet scent, with notes of driftwood and foliage.
Prosecco
Crisp Prosecco notes, layered with apricot, passion fruit, black currant, top notes layered with muguet. 
Suit & Tie
A masculine and fresh scent with notes of cedar wood, patchouli and vanilla amber.
Sugar Plum
Bright citrus and a touch of black cherry enhance the dark plum heart of this fragrance. Amber, sugar, and vanilla base notes reinforce the sweetness of this scent, while musk and freesia add a light earthy dimension.
 Flower Shop
The aroma of a French flower market with a blend of coconut, peach, and white berries. Mid notes of fresh roses, magnolias, gardenia and tuberose on a bed of sweet vanilla and soft woody notes.
Greenhouse 
Breathe in the botanical beauty of Greenhouse, and escape from the commotion of everyday life. A melange of herbal green tea and bright lemongrass is enhanced by notes of citrus, ozone, jasmine, and light musk in this elegant scent. 
Smooth Butter
This warm and cozy fragrance creates the perfect comforting ambiance anytime of the year. The complexity of warm spices, rich cocoa butter, olive wood and a touch of coconut sweetness combines to create a truly relaxing fragrance.
Suede + Smoke
A warm and subtle scent with notes of leather, tobacco and vanilla.