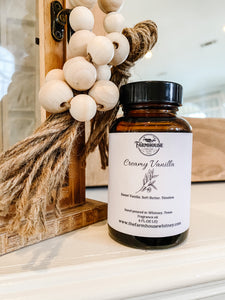 Our fragrance oil is hand poured and packaged in a glass amber bottle. Each jar contains 4 oz of oil which fits in our flower diffuser containers. 


SCENTS

Baja Cactus Blossom-Refreshing blend of fresh flowers and light coconut with a soothing musk and sandalwood base.

Black Raspberry Vanilla-mouth watering goodness inspired by black currant, grapefruit and mandarin in the top note. Blackberry and apple touched by jasmine and violet warm the bloom, supported by naturally creamy sweet orange blossom.
Blueberry Cobbler- An inviting aroma of rich vanilla and mouthwatering blueberries.
Cinnamon Vanilla-A spicy twist to this classic scent with notes of coconut, anise seeds, cinnamon, clove, and Tonka Bean.

Farmhouse Signature- Warm and cozy blend with spicy cinnamon, berry and bold spices.

Fresh Baked Apple Pie- A nice aroma of hot apple pie baking in the oven. Just like mom used to make.
Clean Cotton- Will remind you of fresh sheets out of the dryer.
Grapefruit Pine- Ever hear of a Grapefruit Pine? A surprising mix of citrus and evergreen tones, this one will surprise you.
Jesus- "All thy garments smell of myrrh, and aloes, and cassia" (Psalm 45:8).  Jesus is a great year 'round scent that is a blend of the fragrances used for Christ's robes (with other elements). 
Juniper Berry- An enchanting blend of fresh evergreens and fruits. Cooling camphor, airy ozone, and a hint of citrus start off this complex winter scent. Middle notes of deep red berry balance the woody pine and juniper notes. The fresh evergreen notes are reinforced by eucalyptus, fir needle, and cedar leaf essential oils. 
Magnolia- The complex floral powerhouse you've been waiting for. Delicate yet satisfyingly bold, this fragrance captures spring at the peak of its blossoming glory with its marriage of magnolia.
Spicy Cranberry-A warm blend of cinnamon and cranberry.

Vanilla Cotton-An inviting aura of twilight skies infused with bergamot and orange. This southern cotton flower is blended with rose, cotton flower, and muguet in a blanket of Tonka Bean, vanilla, and musk.

lAVA-Volcano (Capri Type)- A delightful blend of tropical fruits and sugared oranges, lemons and limes with hints of exotic tropical florals and mountain greens.

Warm Sugar Vanilla- A yummy combination of sweet brown sugar, buttery vanilla.